Welcome
The Erikson Institute of Austen Riggs Center is pleased to provide online continuing education (CE) / continuing medical education (CME). CE/CME credit is provided through video/audio courses with an emphasis on psychodynamic psychotherapy. CME/CE certificates are provided upon completion. Credit is available for those with an MD, PhD, PsyD and social workers at this time.  All mental health professionals and students are welcome to experience course offerings and can be provided with a certificate of completion. As a registered member of this educational platform, your courses and transcripts are available on demand. REGISTER to have access to courses. Check back to see new course offerings and thank you for browsing.
We are committed to making quality, free psychodynamic continuing education available as part of our mission despite the considerable costs. If you enjoy our free educational programming and have the means, please consider making a donation.
Upcoming Virtual Events
Title
Dates
When Racialized Ghosts Refuse to Become Ancestors: Tasting the "Blood of Recognition" in Racial Melancholia and Mixed-Race Identities - Dhwani Shah,...
12/15/2023 -

12:50pm

to

1:50pm

EST
Roundtable #1 - Loneliness and the Human Need for Connection across the Lifespan" - Moderated by Katie Lewis, PhD (Live)
01/20/2024 -

11:00am

to

12:30pm

EST
The Tao of K-drama: Reflections on Displacement, Trauma, and Recovery - Mindy Thompson Fullilove, MD, HON AIA, DLFAPA (Live)
02/23/2024 -

6:30pm

to

8:00pm

EST
Climate Emergency, Psychoanalysis, and Radical Ethics - Donna Orange, PhD, PsyD (Live)
03/08/2024 -

6:30pm

to

8:00pm

EST
The Vanishing of Culture in Psychoanalysis: History and New Directions - Chris Christian, PhD (Live)
04/05/2024 -

6:30pm

to

8:00pm

EDT
Erikson Institute Events
Educational, Non-Credit Event Recordings 
The Erikson Institute supports a number of educational, non-CE/CME programs throughout the year and are happy to make the recordings available to the public.  
Below is a listing, by date, of recorded programs available; click on each one to view: 
For any questions, please reach out to education@austenriggs.net
My Transcript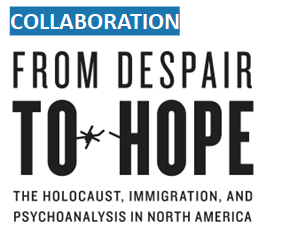 A Collaboration with the Freud Museum Vienna and the Erikson Institute of the Austen Riggs Center
Roundtable 1: After Vienna: A Conversation with Otto Kernberg, MD and Thomas Kohut, PhD (Recording)
The opening roundtable examined the experiences two prominent psychoanalysts, Otto Kernberg and Heinz Kohut who were forced to emigrate from Vienna as the Holocaust approached. Dr. Kernberg spoke about his life and career considering his emigration experience, and Tom Kohut, PhD, spoke about how the emigration experience of his father Heinz Kohut influenced his personal and professional life and work. How both men have shaped American psychoanalysis was examined. This discussion was moderated by Nancy McWilliams, PhD.
Roundtable 2: Refugee Psychoanalysts 1920-1955: Enriching Psychoanalysis in the Americas
The second roundtable examined the experience of emigrant analysts in the United States and the history of forced migration of psychoanalysts from Europe. 
Roundtable 3: Genocide: What Psychoanalysis Lost in the Holocaust
In this third roundtable, panelists discussed what was lost when entire institutes were destroyed through emigration, war, and genocide. While some institutes like the Vienna Psychoanalytic Society were re-established, the roundtable looked at the ways the individuals, their families, organizations, and the field grappled with loss and death in the post-war period. 
Roundtable 4: Beyond Forced Emigration: Contemporary Émigré Experience in Psychoanalysis
The field of psychoanalysis in the 21st century has been shaped by the history of emigration in the 20th century—this fourth panel looks at the way that today's immigrant psychoanalysts experience identity, otherness, and place and how those histories will continue to change the field.
These roundtables are part of "From Despair to Hope: The Holocaust, Immigration, and Psychoanalysis in North America," a collaboration between the Erikson Institute of the Austen Riggs Center and the Sigmund Freud Museum honoring the late Anton O. Kris, MD. 
This program is supported in part by Steven C. Ackerman and grants from the Stockbridge Cultural Council and the Lee Cultural Council, local agencies that are supported by the Mass Cultural Council, a state agency.
My Courses
Recent courses
Online live
Roundtable 2024

Part of

1.50 AMA PRA Category 1 Credit™
1.50 APA
1.50 ASWB-ACE
1.50 Contact Hours/ Participation

All clinicians face the problem of working with patients whose treatments are not going well and who are not making progress.

1.00 AMA PRA Category 1 Credit™
1.00 APA
1.00 Contact Hours/ Participation

This seminar will explore the complex nature of eating disorders from a psychoanalytic perspective.

7.50 AMA PRA Category 1 Credit™
7.50 APA

Memoirs provide a window into the actual experience of patients in psychotherapy, and they are also a useful way to look closely at the work of therapists, in particular, their ethical conduct.

1.00 AMA PRA Category 1 Credit™
1.00 APA
1.00 ASWB-ACE
1.00 Contact Hours/ Participation

Friday Night Guest Lecture Series

In this presentation, Dianne Elise, PhD, will be making use of a Winnicottian formulation of the analytic field to highlight the often unspoken, implicit erotic dimensions of our work.

1.00 AMA PRA Category 1 Credit™
1.00 APA
1.00 ASWB-ACE
1.00 Contact Hours/ Participation

Psychoanalysis
Diversity, Equity and Inclusion

Virtual Grand Round Series

1.00 AMA PRA Category 1 Credit™
1.00 APA
1.00 ASWB-ACE
1.00 Contact Hours/ Participation
Pages